Reading Time:
5
minutes
I was frequently asked by students and mid-career switches on how to get started as a career investment analyst.
This article will be useful not only for aspiring individuals looking to move into the investment business, and investors managing their own family wealth, but also investment organizations looking to develop a team of research analysts.
Well, I wasn't the best candidate for investment research. I graduated with a third-class honor in Bachelor of Engineering and knew little about finance.
Well, I wasn't the best candidate for investment research. I graduated with a third-class honor in Bachelor of Engineering and knew little about finance. I was an ordinary student back then who came from a modest family background. My parents advocated the importance of savings but none knew much when it comes to investing. For me, I always like to give new things a try and was determined to make it into the investment industry.
It was a challenge initially, after getting rejected over 20 times from hires, who constantly say that my degree was not the right fit, that I had no relevant experience and some even criticized at my less than stellar grades. Still, blessed with some luck, I managed to get into two top Asian private banks, a well-established European commercial and investment bank and a boutique investment fund. Talent? No. Technique? Absolutely. I figured out that having a solid game plan to build a career around investment research was vital.
Here, I like to share three tips on how I got started and eventually made it into the business.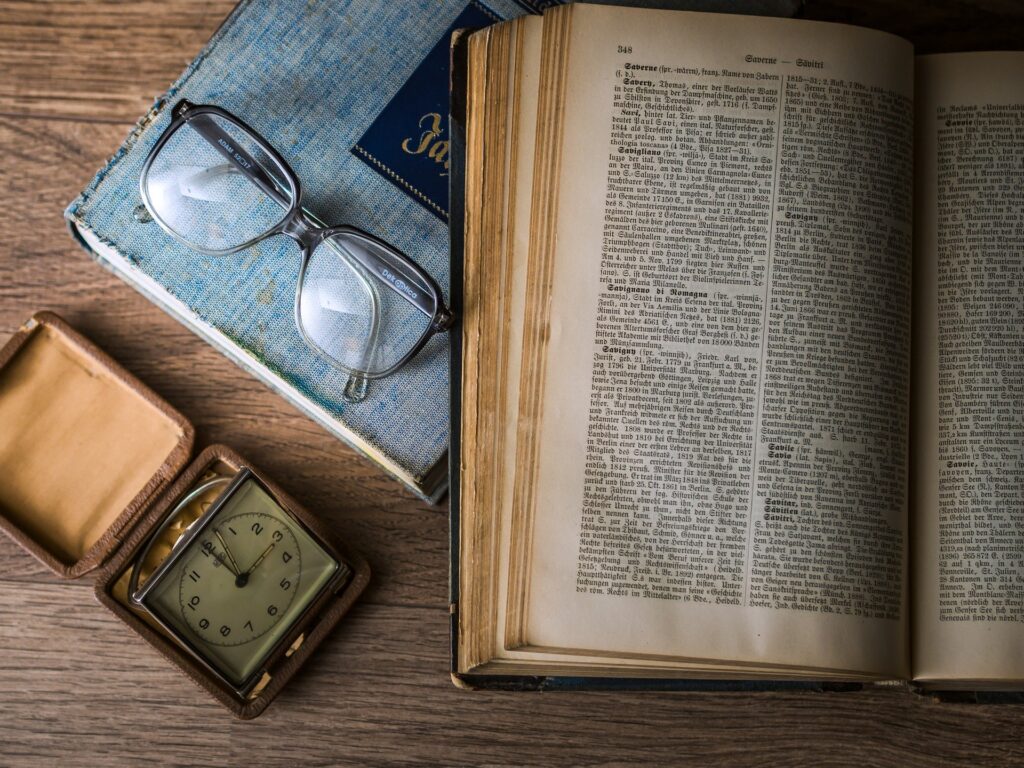 1. READ, VORACIOUSLY
Start off actively reading…
• Books
• Annual Reports of listed companies
• Fund managers' quarterly/annual letters to investors
• Industry reports
• Investment forums
The moment I set course on pursuing my investment journey, I started reading actively. My intention was clear – to develop my foundation in investing concepts and principles plus to work on my analytical skills. So, I read. Don't just focus on mainstream personalities like Warren Buffett, John Bogle, Peter Lynch or Benjamin Graham. Learn about other renown superstars including Howard Marks, Seth Klarman, Michael Burry, just to name a few.
Books
One of the books I highly recommend for starters is You Can be a Stock Market Genius by Joel Greenblatt. While the book title sounds a tad cheesy, but the case studies opened up my world of investing. I realized there were so many ways to invest including spin-offs, rights offering, risk arbitrage, stub stocks etc. Understand each of these elevated my investing knowledge.
Another good read is Asian Financial Statement Analysis by Tan Chin Hwee and Thomas R. Robinson. I like how the book compiled several of the short sell reports out there and summarized what are some of the red flags to look out for when analyzing balance sheet and cash flow statements. The summary made it very easy to look up at case studies and I must say this has accelerated my ability to surgically deconstruct financial reports.
There are other books (non-exhaustive list) below which you may find useful to add into your investing toolkit.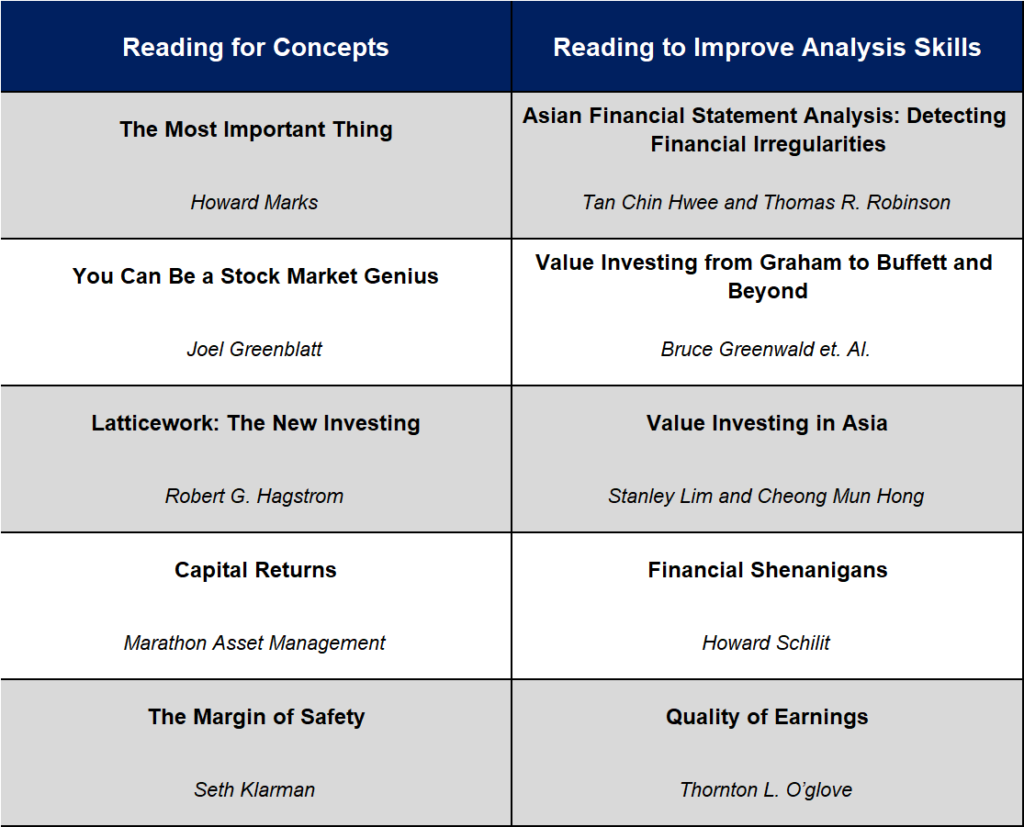 Learn How to Analyze Annual Reports
I realized a lot of research analysts and investors alike do not spend enough time on the 10-K/annual reports. During my formative years, I spent a lot of time reading annual letters penned by top companies' Chairman and CEO to their shareholders. What I gained was a greater appreciation toward businesses and a sharper insight on an industry. As an analyst, I was also better able to articulate the idiosyncrasies of investment ideas to my portfolio managers and clients.
If I had wanted to understand the financial sector in detail, I would have read up on J.P. Morgan's Chairman, Jamie Dimon's past annual letters to shareholders who discusses a great deal about the banking business. Other readings include Stephen Schwarzman of Blackstone Group (private equity), Warren Buffett of Berkshire Hathaway (insurance and investment companies). These management insights to the company's strategies, industries, as well as appreciating the underlying messages from these letters uncovered a lot of golden nuggets for me.
Actively Consume Quarterly/Annual Newsletters by Boutique Fund Managers
These are UNDERRATED information. I learnt a lot through the writings of selected local boutique investment managers. It not only allowed me to live vicariously through their investment management practices but provided unique insights to the way they approach financial analysis.
Some of my favorites include Benjamin Koh of Lighthouse Advisors, Claire Barnes of Apollo Investment, and Michael Burry of Scion Capital.
It not only allowed me to live vicariously through their investment management practices but provided unique insights to the way they approach financial analysis.
2. BUILD A NETWORK OF LIKE-MINDED INDIVIDUALS
Leverage off a community of like-minded individuals to tap upon the knowledge from one another can vastly shorten your learning curve.
Two of my closest buddies and myself have founded Kairos Research Club several years ago, an investment community to leverage on the network effect. To date, the referrals-only community group has members spanned across Singapore, Malaysia, Hong Kong and the Americas. These include fund managers, research analysts, private investors, financial writers and investing enthusiasts, meeting on a bi-monthly basis.
Guys, investing is not just hiding in our bedrooms, sitting in front of the computer reading reports, but there's also so much more learning when we start networking, engaging each other and openly sharing our investment ideas.
3. OPEN AN ACCOUNT AND START INVESTING
I cannot stress this enough. All that above gives you theory, but its difficult to improve if there's no practical application behind the process. My earliest realization to kick-start my investment analyst career was to start becoming an investor first. I opened my brokerage account early in 2010 and dabbled on my first stock, Altria Group, a US listed tobacco company in October 2010. That compelled me to read about the company and made me want to find out more about how businesses, finance and investments collectively intertwined. The small start-up capital used to buy stocks at the onset taught me valuable lessons and allowed me to experience/control my emotional flux with respect to the vicissitudes of the markets. This has greatly aided my journey as a career analyst and investor.
With these basic tips, I was able to shorten the learning curve and get the job I desired despite having a non-finance degree and no formal investment training to begin with.
Learning is a never ending process. While I continue to build upon my skill sets, I have also run portfolios which amount from a few hundreds thousands to over tens of millions in AUM.
My takeaway after spending six and a half years in corporate is that anything is possible. We just need to give it a shot.